Farm Crop, Orchard and Vineyard Row Numbers
These durable and practical wholesale number markers are made with aluminum and covered with colored reflective vinyl with 2" or 3" tall white numbers.  Designed for use as crop and vineyard row numbers, they're easy to mount to existing row posts using screws and an electric drill.
Multiple Row Tag Colors for Different Plant Varieties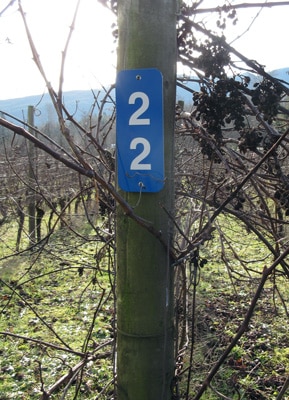 Our crop and vineyard row markers are available in blue, green, red and black to distinguish between different varieties of the same crop. A feature our customers really appreciate, we can also provide custom colors in both reflective and non-reflective vinyl.
Attractive Crop and Vineyard Row Numbers
These numbered signs are attractive and especially nice for farms and vineyards that are open to the public. Examples are wine tasting grounds, fruit stands and food and gift shops.
Night-time Harvesting
Reflective row number signs show up well at night as they reflect the lights being used.  Spotlighting numbered rows can now be easier than ever!
---
Send us your list by email and we put on the numbers.                                   
Send order details to: 911safe@safetyhomeaddress.com 
See the pricing page below.

---
Bad Numbers vs. Good Numbers

Reflective & Non-Reflective Crop and Vineyard Row Number Tags
---
Products Made in the USA and serving Alabama, Alaska, Arizona, Arkansas, California, Colorado, Connecticut, Delaware, Florida, Georgia, Hawaii, Idaho, Illinois, Indiana, Iowa, Kansas, Kentucky, Louisiana, Maine, Maryland, Massachusetts, Michigan, Minnesota, Mississippi, Missouri, Montana, Nebraska, Nevada, New Hampshire, New Jersey, New Mexico, New York, North Carolina, North Dakota, Ohio, Oklahoma, Oregon, Pennsylvania, Rhode Island, South Carolina, South Dakota, Tennessee, Texas, Utah, Vermont, Virginia, Washington, West Virginia, Wisconsin, Wyoming