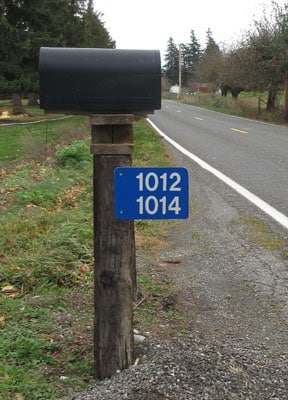 Having easily identifiable address markers for your home is extremely important. During an emergency, every second matters. You don't want 911 1st responders wasting time trying to locate your house. In some cases, those wasted moments can mean the difference between life and death. In order to avoid unnecessary confusion and untimely delays, you should consider upgrading to reflective addressing products. Here are three major reasons to consider ordering an  address sign that can be easily seen from the road:
1. Emergency Responders Love Easy-to-See Signage
This is the biggest reason for reflective address signs.  When there's an emergency and time is of the essence, make it easy for emergency responders to find your home.  These reflective signs show up very well day or night and are visible to drivers coming from either direction.
2. Hot Pizza & Other Food Delivery
Especially if your house is hard to see from the street, making your house number easy to spot is a sure way to get your pizza or other food delivered to your home while it's still hot. Even in the city and the suburbs, house numbers are often very hard to see. Your pizza delivery driver will thank you!
3. Package Delivery & House Guests
Finally, reflective address markers will benefit anyone who is not intimately familiar with finding your home. Package delivery drivers and first-time house guests will appreciate the ease with which they can find your home the first time around. If your directions include the phrases "just passed the third oak tree" or "if you see the big red house you've gone too far" then consider ordering a new reflective address sign for safety and convenience.
Looking for a Reliable Reflective Addressing Supplier?
Are you looking for a reliable reflective addressing supplier? When it comes to address markers for your home and business, Safety Home Address is here to help. We offer a wide variety of reflective addressing products for homeowners, as well as wholesale pricing for multi-housing number signs and resellers. Visit our website for more information or call 1–844–847–4140 to place your order today.
Edited by Justin Vorhees
Quality Reflective Addressing Products
Serving communities across the United States