Professional Multi-Family Housing Number Signs for
Apartments, Condominiums and HOAs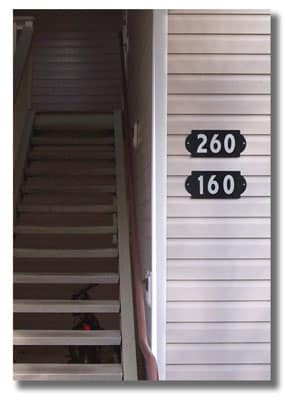 See Pricing Details
Safety Home Address is your one-stop-shop for all your reflective addressing needs, including multi-family housing number signs. We offer customers, property managers and building contractors quality reflective panels, numbers, and letters specifically designed for apartments, condos, HOAs, senior communities, retirement centers and mobile home parks. Our products provide a consistent and high-quality aesthetic that's visible to residents, visitors, delivery workers, and emergency personnel. Our signs are easy to spot and affordable to purchase!
Reflective Address Panels for Apartments and Condos
At Safety Home Address, we understand the importance of balancing both function and curb appeal in your business. This is why we offer several different options for apartment number signs. You can decide which multi-family housing number signs are best suited for your company aesthetic. We're also proud to offer our products at affordable prices. See pricing options below to learn more.
Stop the Confusion!
Let us help you end the confusion with proper reflective address markers that can easily be seen in the day and at night! Residents, visitors, delivery personnel, and emergency vehicles all need to know where to go. Our multi-family housing number signs are the perfect solution! Additionally, many cities and counties have codes with a minimum size number requirement. Stay up to code by upgrading your property with a new and improved, highly functional look as soon as possible.
Protecting Your Community and Facilities
When it comes to multi-family housing number signs, the difference in the products we provide is easy to see—literally! Emergency response personnel and 911 responders will have no difficulty spotting the apartment number signs and address markers for buildings you own and manage. Ensuring quicker response times to emergencies will provide your community and facilities better protection. Are you ready to order these quality products from Safety Home Address? Make sure you learn about our discount pricing options below! If there are any questions contact us at (360) 398-7448.
---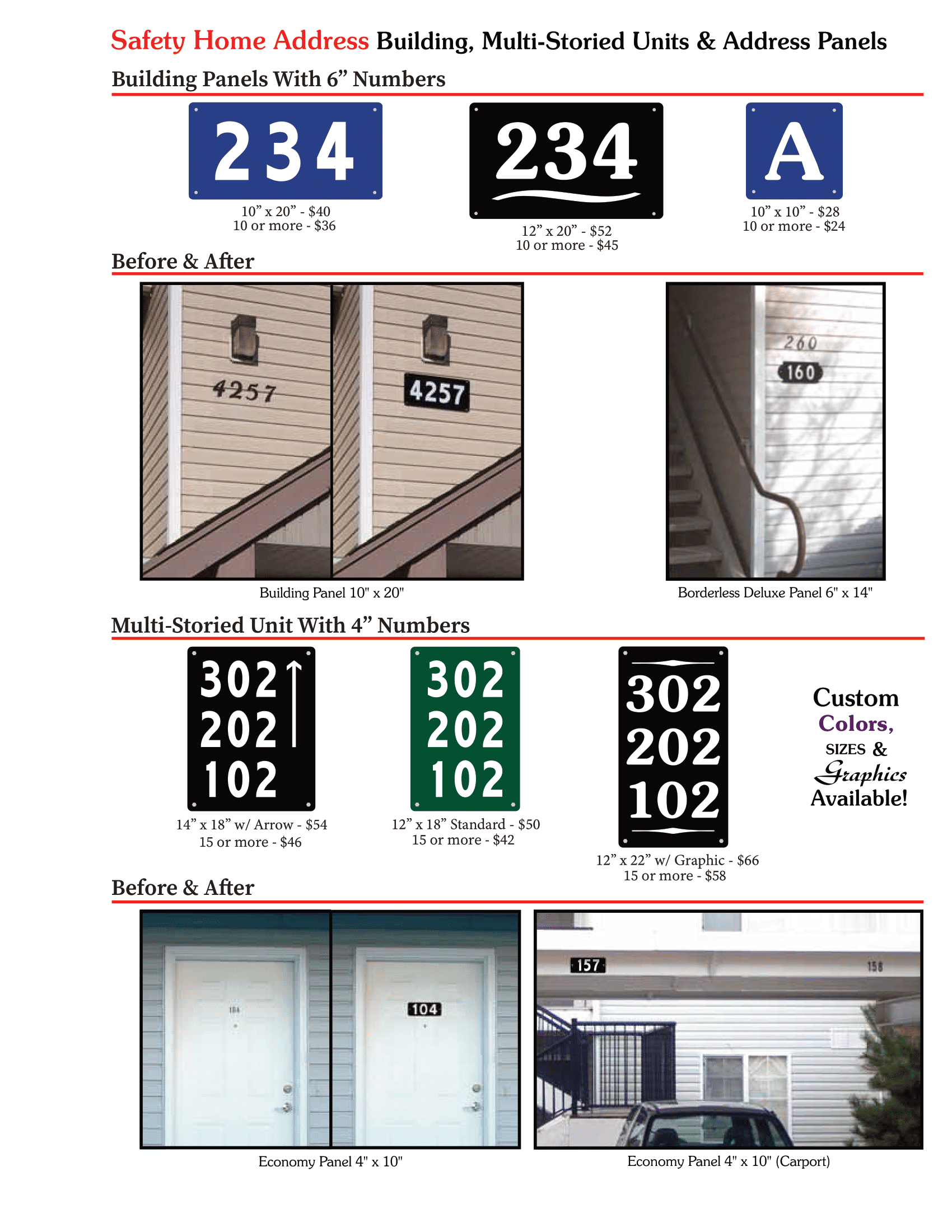 Download our Pricing Guide as a PDF – Page 1
Download our Pricing Guide as a PDF – Page 2
---
Quality Multi-Family Housing Number Signs
Products Made in the USA and serving Alabama, Alaska, Arizona, Arkansas, California, Colorado, Connecticut, Delaware, Florida, Georgia, Hawaii, Idaho, Illinois, Indiana, Iowa, Kansas, Kentucky, Louisiana, Maine, Maryland, Massachusetts, Michigan, Minnesota, Mississippi, Missouri, Montana, Nebraska, Nevada, New Hampshire, New Jersey, New Mexico, New York, North Carolina, North Dakota, Ohio, Oklahoma, Oregon, Pennsylvania, Rhode Island, South Carolina, South Dakota, Tennessee, Texas, Utah, Vermont, Virginia, Washington, West Virginia, Wisconsin, Wyoming